Chase's Apple promotion is back! Now through May 31, 2022, Chase cardholders can get up to a 50% bonus when redeeming their Ultimate Rewards for Apple products in the Chase shopping portal. Read on to find out what bonus you can get with your Chase card (10%, 25% or 50%).
Chase Ultimate Rewards for Apple Products Promotion
Chase cardholders can get up to a 50% bonus when purchasing Apple products through the Chase shopping portal. The bonus percentages are as follows:
10% bonus on the Chase Freedom Flex℠, Chase Freedom Unlimited®, Chase Freedom®, Ink Business Unlimited® Credit Card, Ink Business Cash® Credit Card, and Chase Freedom® Student credit card
25% bonus on the Ink Business Preferred® Credit Card, Chase Sapphire Preferred® Card, and Ink Plus® Business Credit Card
50% bonus on the Chase Sapphire Reserve® and JP Morgan Reserve Card
Since you get a base of 1 cent per point, this means your Chase points will be worth 1.10 cents, 1.25 cents, or 1.5 cents per point. Say you want to get the new iPhone 13 Pro for $1,099. Instead of using 109,900 Ultimate Rewards points, you will only need to use:
99,909 points if you use your Freedom Flex points
87,920 points with the Sapphire Preferred
73,266 points with the Sapphire Reserve
iPhones are included in this promotion, though they weren't when this promotion first occurred in 2020.
Terms and Conditions
You can pay for part of your purchase with points and cash. The 10%, 25%, or 50% bonus will only be applied to the portion of your purchase you use points for.
For points + cash payments, up to 80% of the value can be cash. 20% or more must be a points redemption.
Apple products must be purchased through the Apple Ultimate Rewards Store.
Using the Apple Ultimate Rewards Store
There are a few important items to note about the Apple Ultimate Rewards Store. This store is technically a third-party Apple retailer. Thus, it does not have the same shipment, warranty, and return policies as the Apple Store. Some members have commented on difficulties with receiving their product or getting any help returning a defective product.
If you have other eligible purchases, you can use Chase's Pay Yourself Back feature to get the same 25% and 50% bonus. Then, purchase your Apple products directly from the Apple Store, or whatever else you want to use your cash for.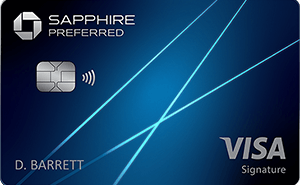 Apply Now
Chase Sapphire Preferred® Card
Annual Fee$95
Welcome BonusEarn 80,000 bonus points after you spend $4,000 on purchases in the first 3 months from account opening. That's $1,000 when you redeem through Chase Ultimate Rewards®.
Our Take
Another (temporary) option for Sapphire Preferred cardholders to get a redemption rate of 1.25 cents per point and for Sapphire Reserve cardholders to get 1.5 cents per point.
That's not a bad redemption rate, but savvy Chase cardholders can get much better value from their Chase Ultimate Rewards by redeeming points through Chase's airline and hotel partners. In recent AwardWallet user redemptions, Ultimate Rewards points provided an average of 2.44 cents in value. That's way better than the top-tier 1.5 cents available with this promotion.
Make sure to check out our guides on 20 Different Ways To Redeem Ultimate Rewards and How to Redeem Chase Ultimate Rewards Points for Flights, Hotels, and Car Rentals.
This promotion is really just for Apple product users. For those planning to get a new Apple phone or computer, this promotion comes at a great time. That's if you don't mind using your points in this way.