In May 2017, American Airlines became the first major U.S. airline to introduce a true premium economy product. American didn't waffle on implementing this new product offering, installing premium economy on over 100 aircraft by the end of 2018. Now, you'll find American Airlines premium economy seating installed on all of the airline's Boeing 777 and 787 aircraft for international flights.
If you're new to premium economy on American, you may wonder how premium economy differs from standard economy. Let's take a look at the airline's premium economy seats, meals and amenities, plus some frequently asked questions about how American Airlines premium economy works.
One of the primary benefits of booking American Airlines premium economy is getting a bigger and wider seat than you would in economy. For its premium economy product, American installed Collins Aerospace MiQ seats that are a bit wider (around 18.5-19 inches) than its economy seats (around 16-18 inches).
Premium seats also have around 38 inches of pitch compared to around 31-32 inches in economy. This allows for more legroom and a deeper recline.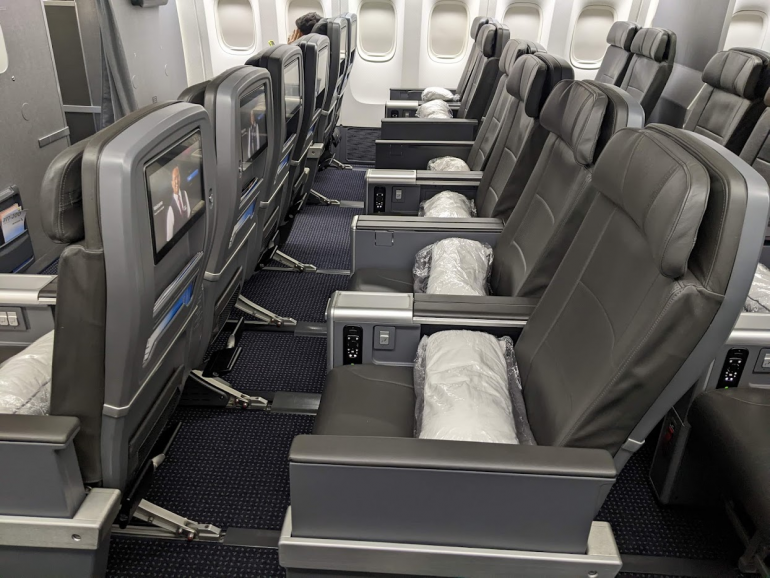 If this seat looks familiar, it's because American Airlines also uses this same seat type for domestic first class seating on its retrofitted domestic fleet.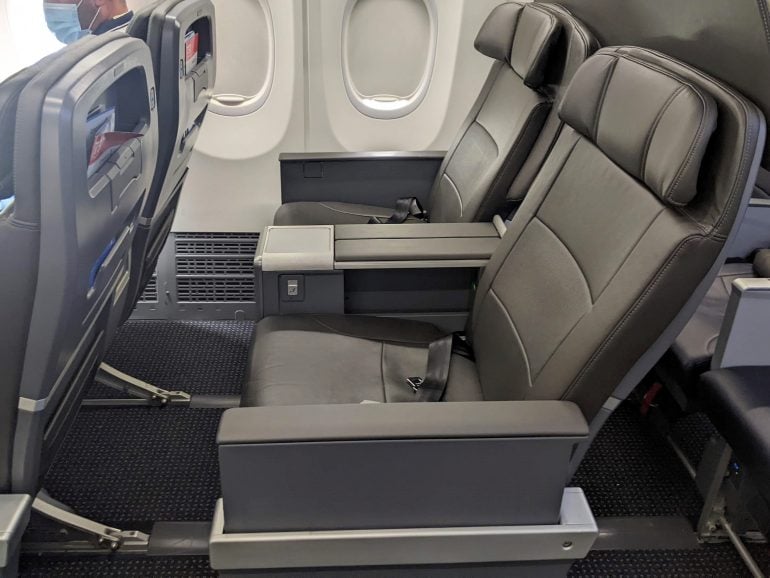 American Airlines premium economy seats are better than these domestic first class seats in a couple of ways. The main advantage: Premium economy seats have an in-flight entertainment screen and remote — rather than just a tablet holder in domestic first class. Also, all premium economy seats have either a footrest or a leg rest.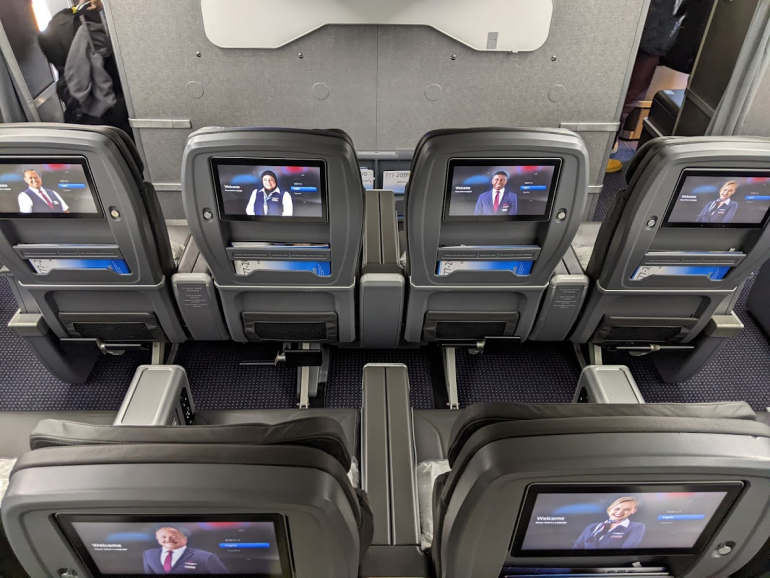 Depending on the aircraft type, American installed between 21 and 28 premium economy seats across three to four rows. On Boeing 777 aircraft, American Airlines installed eight seats per row — two on each side along the window and four in the middle. Meanwhile, American's 787 aircraft have seven seats per row arranged 2-3-2. Either way, couples will want to snag seats together in the windows while families likely will prefer the middle seats.
American Airlines premium economy includes "chef-inspired dining" and complimentary beer, wine and spirits. On long-haul international flights, American will serve multi-course meals with real metal silverware on top of white tablecloths. Add in its solid drink menu and an American Airlines premium economy ticket can rival what you get in business class on some airlines.
Unfortunately, not all routes with premium economy service get this nice of a meal. Because American determines meal type by region and distance, some premium economy passengers simply get the same meal and drink service as economy.
For example, the premium economy meal on a recent flight from Dallas to Bogota didn't seem particularly "chef-inspired."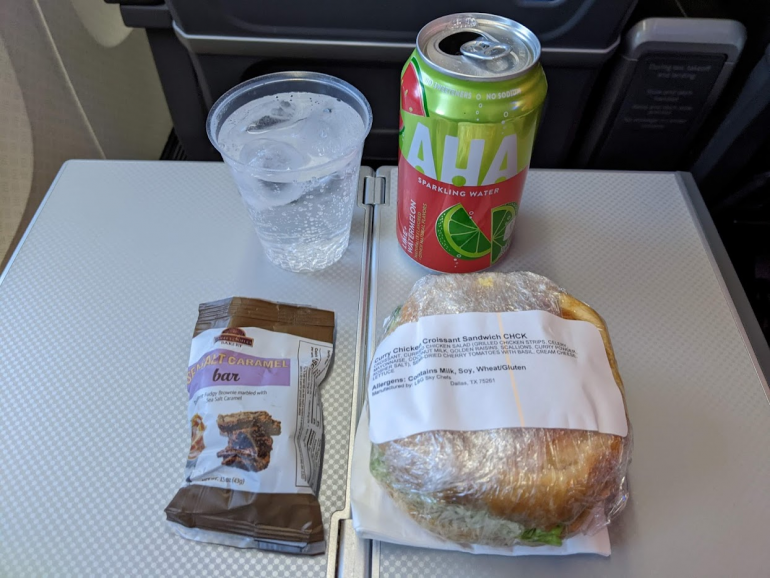 Amenities and other perks
In addition to bigger seats, American Airlines premium economy passengers get a Casper sleep set, an amenity kit and headphones on select international flights.
Premium economy sleep set
American Airlines provides a Casper sleep set for premium economy passengers. This sleep set isn't as comprehensive as what you'll find in business and first class; however, the lumbar pillow and "day blanket" are nice touches that you won't get in economy.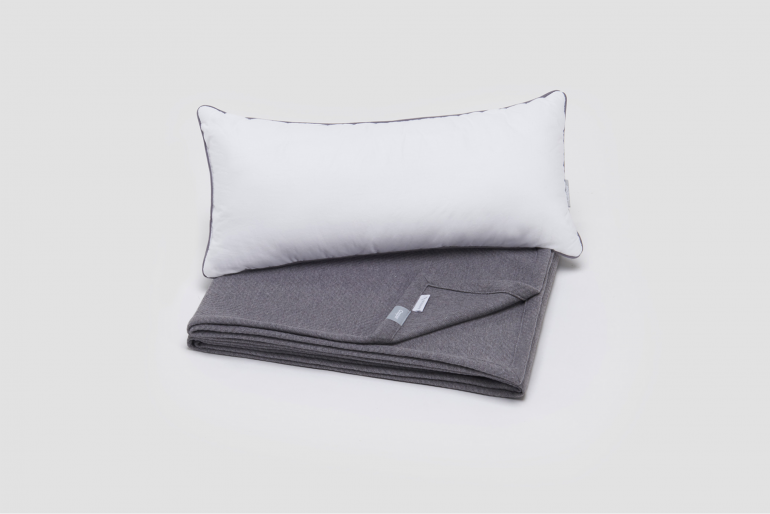 Premium economy amenity kit
Since May 2021, American Airlines has partnered with Shinola and D.S. & Durga to produce its amenity kits. In premium economy, the amenity kit includes items like socks, an eye mask, hand and body lotion, a dental kit, earplugs and a pen.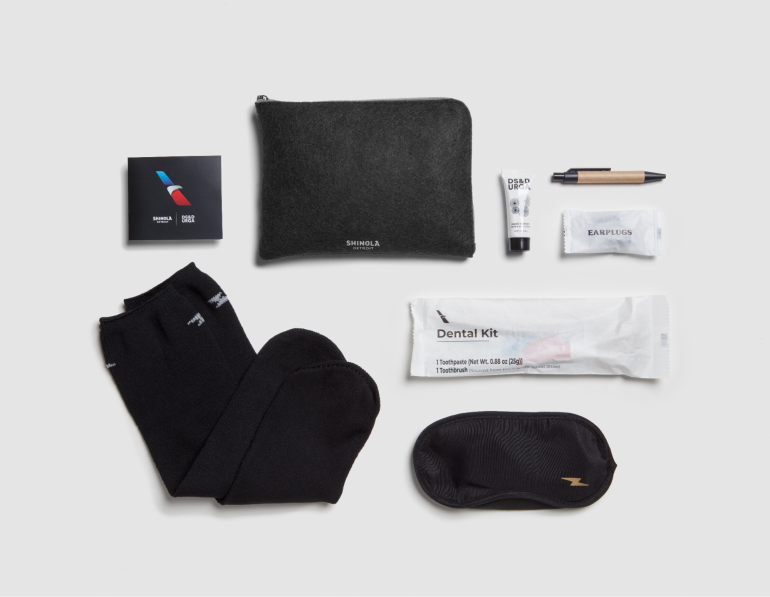 Again, not every American Airlines premium economy route gets an amenity kit. American notes that amenity kits are only available on international flights — meaning premium economy routes to Hawaii and Alaska wouldn't get an amenity kit. In addition, American Airlines premium economy passengers on certain short-haul international routes don't receive an amenity kit.
Other perks of American Airlines premium economy
Headphones: American Airlines premium economy passengers get "noise-reducing headphones." This perk is limited to eligible routes.

Priority check-in and boarding: American Airlines premium economy passengers can use the Priority check-in line and board during Group 4 priority boarding.
Over the past few years, many airlines — including American Airlines — have narrowed seats in economy while installing true premium economy seats. By offering premium economy, American, Delta Air Lines and United Airlines all now offer a way to fly that's better than economy but not nearly as expensive as business class.
Be aware that not all perks are included in every American Airlines premium economy ticket, and the availability is highly dependent on the flight route itself. It's not uncommon to be served economy meals and few amenities on flights to Hawaii, Alaska and even some international routes, limiting the value of an American Airlines premium economy experience to a more spacious seat.
You'll need to fly on eligible long-haul international routes to get the full premium dining experience and in-flight amenities.