Amazon Prime Rewards Visa Signature Card Overview
The Amazon Prime Rewards Visa Signature Card is one of the best online shopping credit cards due to its high reward rates on Amazon purchases with no spending caps and Visa Signature benefits. If you spend around $2,800 (preferably more) at Amazon and Whole Foods, this card will give you a hearty bang for your buck. Used to its full potential, you can easily recoup the cost of your Amazon Prime membership while enjoying other key perks, including surprisingly rich travel and purchase protections.
The biggest drawbacks are the cost of an Amazon Prime membership, being locked into Amazon brands and for your best reward tiers and a few missing purchase protections—but these are minor nitpicks compared to what many other store cards (don't) offer.
What are the advantages and disadvantages?
Pros
High earning rate on Amazon and Whole Foods purchases
Up to $150 bonus Amazon gift card instantly upon approval
No foreign transaction fees
Rewards can be redeemed at an equal rate toward cash back, travel and Amazon purchases
Carries beefy Chase travel and purchase protections plus Visa Signature benefits, including Luxury Hotel Collection perks and concierge services
Cons
Requires an Amazon Prime membership, which costs $119 per year
Only one Amazon Prime account can be linked to this card
Reward points can't be transferred to other loyalty programs
Although it's a Chase credit card, it doesn't have access to the Chase Offers or Chase Ultimate Rewards portals
A deeper look into the current card offer
Quick highlights
Rewards rate: 5 percent back at Amazon.com and Whole Foods Market; 2 percent back at restaurants, gas stations and drugstores; 1 percent back on all other purchases
Welcome offer: Up to $150 Amazon gift card upon approval
Annual fee: $0 ($139 Amazon Prime subscription required)
Purchase intro APR: N/A
Balance transfer intro APR: N/A
Regular APR: 14.24 percent to 22.24 percent variable
Current sign-up bonus
You can currently receive an up to $150 Amazon gift card just by being approved for the Prime Rewards Visa card, which is equal to the card's highest-value promotion we saw earlier in 2021—and a good step up from the most recent $100 gift card offer. However, it's important to note that the value of this gift card may vary depending on the page you apply from.
Ahead of Prime Day this past June, the Amazon Prime Rewards Visa Signature Card updated its intro offer to a sizable up to $150 Amazon gift card upon approval. This synced perfectly with the 10+ percent boosted rewards limited-time offer for select products usually seen on Prime Day, which could make the lead-in period to Prime Day perhaps the best time to apply for an Amazon Prime Rewards Visa card if your application isn't offering the full $150 intro value at the moment.
The $100 promotion wasn't a bad offer by any means—the bonus gift card has previously weighed in at a lower $70—but seeing the much more competitive up to $150 gift card return makes for a much more enticing hook. The $100 value was below the low end of many sign-up bonuses we typically see, which usually weigh in at $150 to $200 with no annual fee cards. However, there is no spending requirement for the standard Amazon credit offer (you receive the bonus instantly) and many store cards don't offer a sign-up bonus at all. As far as retail cards go, the bonus is a nice plus since it can cover the $139 yearly cost of Amazon Prime membership for the first year.
Although it's not a traditional sign-up "bonus," there's also an alternate Whole Foods Market card art, which became available for new cardholders starting Jan. 22, 2021. Existing cardholders can also switch card designs if they want to show off their Whole Foods loyalty.
Rewards rate
Regular Amazon shoppers will have no problem earning a slew of rewards with the Prime card. With one of the highest-earning rates available for Amazon purchases, you'll only need to spend $2,780 each year to recoup your Prime membership—or about $232 per month.
How you earn
Amazon.com and Whole Foods Market purchases will earn you unlimited 5 percent rewards. Plus, you'll earn 2 percent at restaurants, gas stations and drugstores, along with 1 percent back on all other purchases.
Since the 5 percent category also applies to Whole Foods Market, this is also one of the best grocery rewards rates if you can do your grocery shopping there.
Amazon and Chase occasionally offer additional ways to earn rewards. Amazon regularly posts limited-time "Exclusive Prime cardmember" offers that provide anywhere from 10 to 25 percent back on select items.
How to redeem
Although the reward terms make it sound like you're earning cash back, you're actually earning points. You can redeem your points at a 1:1 value toward cash back, travel, gift cards or Amazon purchases upon checkout.
There is no minimum rewards balance to redeem for cash back or for Amazon purchases, but there's a disappointingly long list of what you can't use points to buy. Many of these items are small purchases that you would probably use points on more often, such as music, Kindle eBooks and video downloads. Depending on what you may spend points on, cash back might be the most flexible option.
Other cardholder perks
The Amazon Prime Rewards card carries a surprising number of benefits for a retail card—even Luxury Hotel Collection and concierge service premium travel perks.
Since it's a Visa Signature credit card, it comes with a handful of travel and shopping protections that are standard to many rewards cards. But even these "standard" Visa benefits outnumber other networks', like Discover.
Travel protections
Considering how light co-branded store cards are on perks, the Amazon Prime Rewards card's depth of travel protection coverage is remarkable.
Your card's travel accident insurance (coverage up to $500,000), lost luggage reimbursement (up to $3,000 per passenger) and baggage delay insurance (reimburses up to $100 per day for three days) do a little to smooth the rough edges of airport travel. Or, if you're on the road, the auto rental collision damage waiver and roadside dispatch service can be a big help in a pinch.
Purchase and extended warranty protections
These two purchase protection benefits provide some peace of mind when you come across a good deal, but you're worried about iffy merchants or shipping damage. The extended warranty protection increases eligible warranties (three years or less) by a whole year. Meanwhile, your purchase protection covers new purchases against damage or theft up to $500 per claim ($50,000 per account).
As an online shopping card with Visa Signature benefits, it's surprising that the Amazon Prime Rewards card doesn't come with price and return protection too. It's a bit disappointing that you can't get your money back if a sketchy seller doesn't offer returns, but return protection is a rarer perk nowadays.
Visa Signature Luxury Hotel Collection and Concierge Service
The Visa Signature level of the Luxury Hotel Collection grants cardholders seven "VIP Guest status" amenities, including automatic room upgrades when available and other complimentary privileges.
When you need to save time planning your travel or even at home, the free Visa Signature Concierge Service is like a 24-hour personal assistant that can book reservations, tickets and more.
How much are the rewards worth?
Each point is worth 1 cent. You can maximize your cash back on Amazon by taking advantage of the site's "subscribe and save deals" and other retailers' Amazon gift card promotions for extra discounts and rewards.
Rates and fees
The rates and fees for the Amazon Prime Rewards card are standard, but the "no annual fee" comes with an important footnote. You must have an Amazon Prime membership to get the card, which is currently $14.99 per month or $139 each year (if you opt to pay for a whole year at once).
Amazon's Feb. 18, 2022, Prime yearly membership price increase from $119 (previously $12.99 if you pay monthly) may make the extra $400 you need to spend each year (breaking down to about $34 more per month) at Amazon or Whole Foods to recoup your membership cost a little tougher, but leaning on your other categories can help fill the gap.
Amazon comes with a range of valuable benefits, but the cost of Amazon Prime just for this card might not be worth it for shoppers that don't regularly shop at Amazon or won't take advantage of other Amazon services like Prime Video. It takes spending at least $232 each month across Amazon.com and Whole Foods to break even on a Prime membership, or almost $580 per month across your 2 percent categories, so the no-annual-fee Amazon Rewards Visa Signature Card might be a more reasonable alternative if you don't spend a good deal more than that. The standard Amazon Rewards Visa card doesn't require a Prime subscription but carries a slightly lower rewards rate in exchange.
Other than offsetting Amazon Prime, the only other potential rates to be aware of mainly are the ongoing interest and foreign transaction fees. Fortunately, the 14.24 percent to 22.24 percent variable APR can be well below the 22 percent average for co-branded retail cards (according to a CreditCards.com survey), and can even be lower than the current average credit card interest rate. What's more, there are no foreign transaction fees to worry about if you frequently travel.
Bankrate staff experience
Several members of the Bankrate staff love the Amazon Prime Rewards card and dedicate a regular slot in their wallet to it. One of our editors, Nouri Zarrugh, enjoys the versatility Amazon.com online shopping rewards adds to his credit card rotation:
The Amazon Prime Rewards card has given a nice boost to my cash back strategy. Considering the variety of items available on Amazon, this card gets you 5 percent back on almost anything you can think of—from streaming subscriptions via Amazon Channels to grocery deliveries via Amazon Fresh or Whole Foods to tools and home goods—making this easily one of the most versatile cards in my wallet.

— Nouri Zarrugh,Credit Card Reviews Editor at Bankrate
How the Amazon Prime Rewards Visa Signature compares to other rewards cards
Although they may not be as rewarding for shopping on Amazon.com as the Amazon Prime Rewards Visa signature is, plenty of other cards are designed to reward online shopping beyond this one retailer. However, many of these alternatives are limited by quarterly categories, bonus category spending caps and limited-time offers, such as the Chase Freedom Flex℠ card and the Blue Cash Preferred® Card from American Express.
The Amazon Prime Rewards Visa Signature Card vs. the Capital One® Walmart Rewards® Card
Ultimately, whether the Amazon Prime Rewards card or the Capital One® Walmart Rewards® Card is the better choice depends on which retailer you shop with online more. They have comparable reward programs, except the Amazon card offers 2 percent rewards at drugstores while the Walmart card offers 2 percent cash back on travel. While the Walmart card's travel category would likely have more rewards potential, its gas category only covers Walmart and Murphy USA gas stations while the Amazon card's gas category is much more flexible.
You may be able to get more first-year value from the Walmart card since its 12-month 5 percent cash back rate on in-store purchases when using Walmart Pay only takes spending over $3,000 that year to eclipse the Amazon card's up to $150 bonus gift card. However, factors like richer benefits, a lower ongoing APR (the Walmart rewards card poses a 17.99 percent to 26.99 percent variable rate) and a more popular online shopping platform could make the Amazon Prime Rewards card a slightly better option overall.
The Amazon Prime Rewards Visa Signature Card vs. the Bank of America® Customized Cash Rewards credit card
If you're a big online shopper but you want as much rewards flexibility as you can get month-to-month, the Bank of America® Customized Cash Rewards credit card is one of the most versatile cash back cards on the market. Granted, its online shopping category rewards rate is 3 percent rather than 5 percent, but you can swap out your 3 percent category each month for five other choices that include dining, gas, travel and other everyday expenses. You'll also benefit from fixed 2 percent cash back categories that cover grocery stores and wholesale clubs. More interestingly, Bank of America's online shopping category is one of the most comprehensive available, covering major retailers like Amazon.com and Walmart.com on top of a myriad of retailers and specialty sites like Etsy.com.
The downside is that the Bank of America Customized Cash card's 3 percent and 2 percent bonus categories share a $2,500 quarterly spending limit, which will drop all your spending to 1 percent cash back if you exceed it. The Bank of America card's better $200 cash rewards bonus (after spending $1,000 on purchases within the first 90 days), 15-billing cycle 0 percent intro APR on purchases and balance transfers (transfers within the first 60 days incur a standard 3 percent fee; $10 minimum) and 13.99 percent to 23.99 percent variable APR may offset this hurdle, but the Amazon Prime card offers unlimited rewards. It's worth noting that, aside from rewards, the Prime card also has meatier benefits.
Although the Amazon Prime Rewards Visa Signature could be more rewarding if most of your online shopping is through Amazon, the better-rounded Bank of America Customized Cash card could be a more valuable day-to-day option if your online spending is varied enough that you can't justify a Prime membership.
Amazon Prime Rewards Visa Signature Card
Intro offer
$150 Amazon Gift Card 
Recommended credit
Good to Excellent(670 – 850)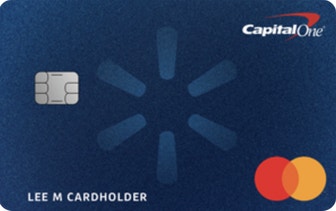 Capital One Walmart Rewards® Mastercard®
Recommended credit
Fair to Good(580 – 740) 
Best cards to pair with the Amazon Prime Rewards Visa Signature
Since the Amazon Prime Rewards card is focused on rewarding Amazon purchases, other general-purpose cash back credit cards are great partners for broader rewards. Flat-rate cards like the Citi® Double Cash Card are solid picks to earn cash back on every purchase you make.
The Bank of America Customized Cash card may provide a more consistent base than rotating categories for this pairing strategy since its online shopping category is one of the most robust available (its scope includes specialty sites like Etsy on top of major retailers like Amazon.com) and can be swapped in each month for expected expenses.
Bankrate's Take: Is the Amazon Prime Rewards Visa Signature worth it?
The Amazon Prime Rewards card is undoubtedly worth it if you frequently order from Amazon—especially if you spend over $2,780 each year on the site or spend big on Amazon Prime Day or during the holidays. (Note, business owners may save even more with the Amazon Business Prime American Express Credit Card's extra reward categories.)
With the Prime Rewards card, you can easily reimburse your Prime membership, better protect your purchases and utilize a few travel perks to boot. The unlimited 5 percent rewards easily outperform other credit cards' online shopping categories.
On the flip side, a general-purpose rewards card may earn you more if you prefer higher rewards rates on more variable bonus categories or other online retailers. Still, the Amazon Prime Rewards Visa Signature offers better rates and more versatile rewards than many store cards.
All information about the Amazon Prime Rewards Visa Signature Card, Capital One® Walmart Rewards® Card, and Amazon Business Prime American Express Credit Card has been collected independently by Bankrate.com and has not been reviewed or approved by the issuer.