Hotel elite status can score you sweet perks like room upgrades, free breakfast and late checkout. Generally, hotels only grant these elite status benefits to elite status members and anyone staying with them. However, you may want to gift elite perks to a friend or family member to help them make the most of a memorable trip. Some hotel loyalty programs understand this and allow elite status gifting.
Let's look at five hotel programs that allow elite status gifting and the process to gift elite status.
Elite status gifting with Hilton Honors is straightforward: Members that stay at least 40 nights in 2022 can gift Gold elite status to a friend or family member. And if you stay at least 70 nights within 2022, you get the option to gift Diamond status — either to the same person or another member. If they're not yet a Hilton Honors member, they can sign up for free.
Only Hilton Honors members that stay 40 or 70 nights during 2022 can choose this benefit. Nights that rolled over into 2022 won't count toward earning Hilton Honors elite status gifting. You also can't gift elite status if you only have Hilton Diamond status through the Hilton Honors American Express Aspire Card.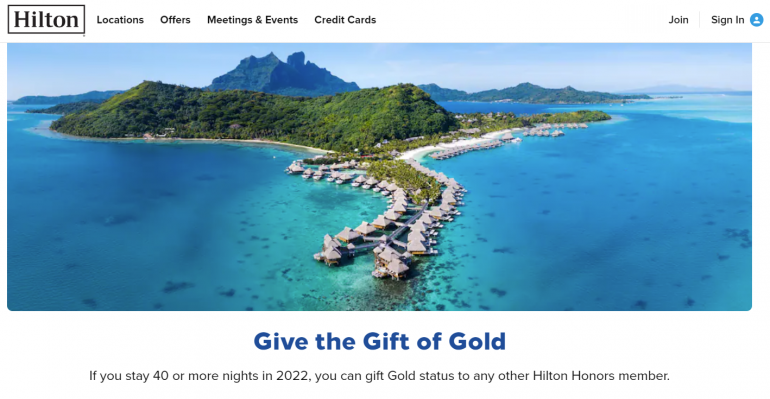 Eligible members have until Jan. 31 of the following year to use the benefit of gifting elite status. That means Hilton Honors members that reach 40 or 70 elite nights in 2022 have until Jan. 31, 2023, to choose which lucky friend or family member gets free Hilton elite status.
Gifted elite status is valid for 365 days after being claimed. So, wait until right before your friend or family member will use the benefit to give them the elite status claim code.
How to gift Hilton elite status
Hilton makes it easy to gift elite status by automatically emailing you a claim code when you reach 40 (and 70) elite nights. Simply share that code with your friend or family member and have them visit the elite status gifting landing page to claim the elite status.
If you've reached 40 elite nights but didn't receive an email, call Hilton at 800-446-6677 with your name and Hilton Honors number to request a code.
Marriott Bonvoy members that earn at least 50 elite night credits in a calendar year (earning them the status of Platinum Elite) can select one of Marriott's Annual Choice Benefits, which includes the option to gift Silver Elite status. In addition, Bonvoy members who reach 75 elite night credits (Titanium Elite status) can gift Gold Elite status to another Bonvoy member.
However, we don't recommend giving Silver Elite status as an Annual Choice Benefit. This elite status level can be earned after just ten qualifying nights or as a benefit of any Marriott Bonvoy credit card. The perks are also limited — primarily a 10% points bonus on stays and late checkout based on availability.
Gold Elite status is a bit more valuable — granting perks like 25% bonus points on stays, room upgrades, 2 p.m. late checkout and a welcome gift of bonus points. However, your friend or family member can also get Marriott Gold Elite status by getting a card like the Marriott Bonvoy Brilliant™ American Express® Card or The Platinum Card® from American Express. Plus, there are more valuable 75-night Annual Choice Benefits, such as a free night award worth up to 40,000 points. Enrollment is required. Terms apply.
How to gift Marriott elite status
Upon reaching 50 and 75 elite night credits as a Marriott Bonvoy member, you'll receive an email from Marriott letting you know that you earned an Annual Choice Benefit. Just follow the "select benefits" link in that email to begin the selection process.
On the webpage that opens, Marriott lists all of your elite status choices. If you want to gift Marriott Bonvoy Silver Elite status as your 50 elite night credit benefit, select the "learn more" link in that box to start the process.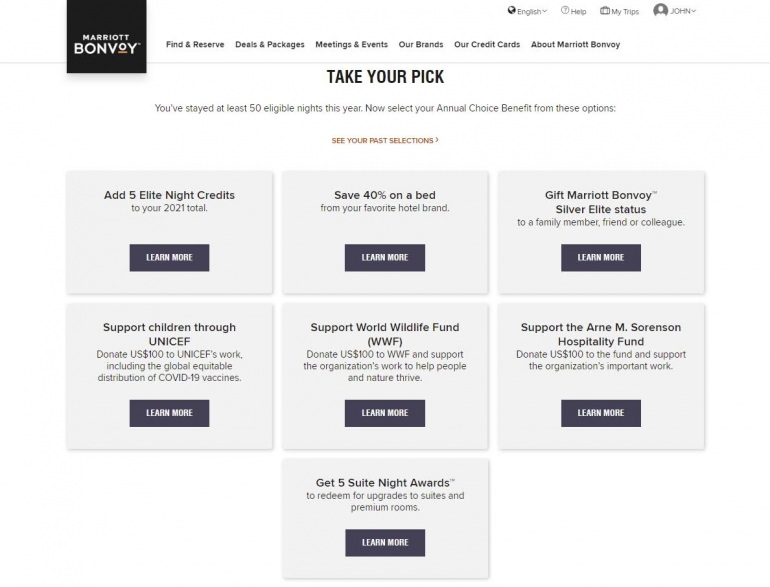 Likewise, members can give the gift of Marriott Bonvoy Gold Elite status by selecting the "learn more" link on the 75 elite night credit Annual Choice Benefit page.
Each year, IHG Spire Elite members get a choice between gifting Platinum Elite status to another IHG Rewards member or 25,000 bonus IHG Rewards points.
NerdWallet's analysis pegs the value of IHG Rewards points at 0.8 cent per point. At that rate, the 25,000 bonus points option is worth around $200. So, make sure a friend or family member will get at least this much value out of Platinum Elite status before opting for the elite status gifting option.
Platinum Elite is one of the higher elite status tiers in IHG Rewards. However, you can achieve Platinum Elite status without staying a single night. Cardholders of the IHG® Rewards Premier Credit Card and IHG® Rewards Premier Business Credit Card automatically get Platinum Elite status. That means you'll want to gift IHG Platinum Elite status to someone who can't easily get the status by signing up for the IHG® Rewards Premier Credit Card — such as an overseas friend.
How to gift IHG Rewards elite status
To choose your IHG Spire Elite status benefit, log into your IHG Rewards account and browse to this page. You'll get a choice between adding 25,000 points to your account or gifting Platinum Elite status to a friend.
If you choose the elite status gifting option, you'll need to provide the recipient's last name and IHG Rewards number. Select "Gift Platinum Elite" to complete the process.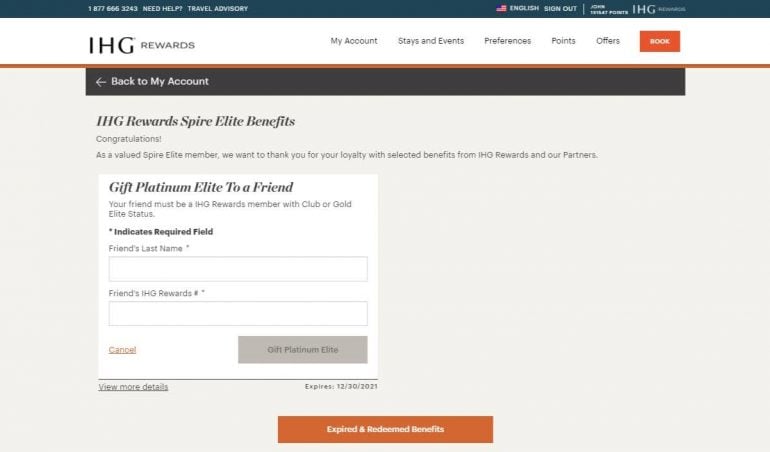 Each calendar year, Wyndham top-tier Diamond elite members can gift another member Gold elite status. While Gold elite status may sound impressive, it's remarkably easy to earn. In 2022, a Wyndham Rewards member only needs to stay three nights to earn Gold elite status. That means giving Wyndham Gold elite status isn't a particularly valuable benefit.
Still, it can be worth going through the process if you have a friend or family member who's planning to stay at a Wyndham property and doesn't have Wyndham elite status.
How to gift Wyndham Rewards elite status
To give the gift of Gold elite status, Wyndham Diamond members need to contact Wyndham Rewards Member Services at the number listed on their Diamond membership card. Then, members need to give the Wyndham Rewards agent their friend or family member's name and membership number to start the process.
While Hyatt top-tier Globalists can't give the gift of elite status itself, they can get an even more valuable benefit: Guest of Honor bookings. Anytime a Hyatt Globalist redeems their World of Hyatt points or Free Night Award for another member, that member will enjoy all of the in-hotel benefits of Hyatt Globalist elite status.
Hyatt Globalist benefits include:
Room upgrades at check-in — including standard suites.

Club access or breakfast.

4 p.m. late checkout as available.

Priority access to rooms when checking in early.

Waived resort fees on eligible stays.
Just note that not all Hyatt properties and brands honor Guest of Honor bookings. For example, Guest of Honor bookings aren't valid at Hyatt Residence Club resorts and some Alila properties.
If you want to gift hotel elite status
One perk of top-tier status with several hotel programs is the ability to gift elite status — or elite status benefits in the case of Hyatt — to another member. However, each loyalty program varies on how this is done.
In the case of IHG and Marriott, you need to select elite status gifting as your elite status choice benefit. On the other hand, Hilton and Wyndham's elite members don't have to give up another benefit in order to gift elite status to someone else.
Hyatt's Guest of Honor program is perhaps the best of them all, allowing you to give others elite status perks as long as you have enough World of Hyatt points to book their rooms.